Page last updated: 22 May 2021 20:18
Diablo 2 Unique Items
In Diablo 2 and Diablo 2: Resurrected, Unique items are categorized with the Unique color. Almost every normal item in the game has a Unique version giving unique properties. The Unique items also follow the Normal/Exceptional/Elite version of the items, however not all item versions have a Unique version.
Elite
Exceptional
Normal
Defense: 371-487 (429 avg)
Ethereal Defense: 551-720 (635 avg)
Durability: 20
Ethereal Durability: 11
Required Strength: 77
Required Strength (Eth): 67
Required Level: 75
Quality Level: 83
Armor Type: Light
Magic Properties:
+20% Faster Cast Rate
+10-15% To Cold Skill Damage

(varies)


+10-15% To Fire Skill Damage

(varies)


+10-15% To Lightning Skill Damage

(varies)


+3 to *Random Sorceress Skill
+10-20 Defense

(varies)


Regenerate Mana 10-15%

(varies)




(Patch 1.09 or later)

*The Random Skill can be any Sorceress Skill, except for Fire Mastery, Hydra, Lightning Mastery, Frozen Orb, and Cold Mastery.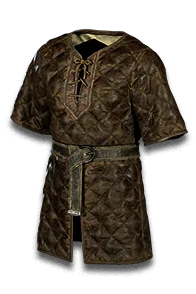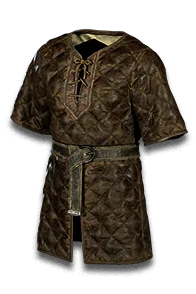 The Spirit Shroud
Ghost Armor
Defense: 295 (295 avg)
Ethereal Defense: 442 (442 avg)
Durability: 20
Ethereal Durability: 11
Required Strength: 38
Required Strength (Eth): 28
Required Level: 28
Quality Level: 36
Armor Type: Light
Magic Properties:
+1 To All Skill Levels
+150% Enhanced Defense
Replenish Life +10
Magic Damage Reduced by 7-11

(varies)


Cannot Be Frozen


(Patch 1.09 or later)


Defense: 28-31 (29 avg)
Ethereal Defense: 33-38 (35 avg)
Durability: 20
Ethereal Durability: 11
Required Strength: 12
Required Strength (Eth): 2
Required Level: 7
Quality Level: 3
Armor Type: Light
Magic Properties:
5% Life Stolen Per Hit
+20 Defense
+10 To Dexterity
Cold Resist +20%
Fire Resist +20%
Magic Damage Reduced by 3


(Any Patch)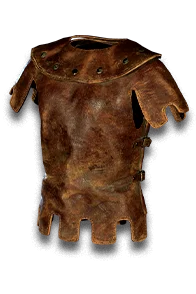 Wyrmhide
There is no unique version of this item


Skin of the Vipermagi
Serpetnskin Armor
Defense: 279 (279 avg)
Ethereal Defense: 418 (418 avg)
Durability: 24
Ethereal Durability: 13
Required Strength: 43
Required Strength (Eth): 33
Required Level: 29
Quality Level: 37
Armor Type: Light
Magic Properties:
+1 To All Skill Levels
+30% Faster Cast Rate
+120% Enhanced Defense
All Resistances +20-35

(varies)


Magic Damage Reduced by 9-13

(varies)




(Patch 1.09 or later)


Blinkbat's Form
Leather Armor
Defense: 39-42 (40 avg)
Ethereal Defense: 46-50 (48 avg)
Durability: 24
Ethereal Durability: 13
Required Strength: 15
Required Strength (Eth): 5
Required Level: 12
Quality Level: 16
Armor Type: Light
Magic Properties:
10% Faster Run/Walk
+40% Faster Hit Recovery
Adds 3-6 Fire Damage
+25 Defense
Fire Resist +20%
+50 Defense vs. Missile


(Patch 1.09 or later)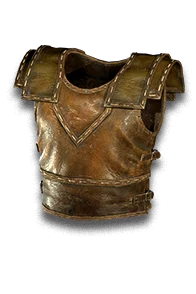 Scarab Husk
There is no unique version of this item


Skin of the Flayed One
Demonhide Armor
Defense: 342-397 (369 avg)
Ethereal Defense: 512-594 (553 avg)
Durability: 58
Ethereal Durability: 30
Required Strength: 50
Required Strength (Eth): 40
Required Level: 31
Quality Level: 39
Armor Type: Light
Magic Properties:
5-7% Life Stolen Per Hit

(varies)


+150-190% Enhanced Defense

(varies)


Replenish Life +15-25

(varies)


Attacker Takes Damage of 15
Repairs 1 Durability in 10 Seconds


(Patch 1.09 or later)


The Centurion
Hard Leather Armor
Defense: 51-54 (52 avg)
Ethereal Defense: 61-66 (63 avg)
Durability: 28
Ethereal Durability: 15
Required Strength: 20
Required Strength (Eth): 10
Required Level: 14
Quality Level: 19
Armor Type: Light
Magic Properties:
+50 To Attack Rating
+30 Defense
+15 To Life
Replenish Life +5
+15 To Mana
+15 Maximum Stamina
25% Slower Stamina Drain
Damage Reduced by 2


(Patch 1.09 or later)


The Gladiator's Bane
Wire Fleece
Defense: 1255-1496 (1375 avg)
Ethereal Defense: 1856-2217 (2036 avg)
Durability: 135
Ethereal Durability: 69
Required Strength: 111
Required Strength (Eth): 101
Required Level: 85
Quality Level: 85
Armor Type: Light
Magic Properties:
+30% Faster Hit Recovery
+150-200% Enhanced Defense

(varies)


+50 Defense
Damage Reduced by 15-20

(varies)


Magic Damage Reduced by 15-20

(varies)


Cannot Be Frozen
Poison Length Reduced by 50%
Attacker Takes Damage of 20


(Patch 1.09 or later)


Defense: 234-605 (419 avg)
Ethereal Defense: 348-758 (553 avg)
Durability: 157
Ethereal Durability: 80
Required Strength: 61
Required Strength (Eth): 51
Required Level: 33
Quality Level: 41
Armor Type: Light
Magic Properties:
+50-100% Enhanced Defense

(varies)


+297 Defense (Based On Character Level)
+25 To Life
Damage Reduced by 15-20

(varies)


Magic Damage Reduced by 10-16

(varies)




(Patch 1.09 or later)


Twitchthroe
Studded Leather
Defense: 57-60 (58 avg)
Ethereal Defense: 73-77 (75 avg)
Durability: 32
Ethereal Durability: 17
Required Strength: 27
Required Strength (Eth): 17
Required Level: 16
Quality Level: 22
Armor Type: Light
Magic Properties:
20% Increased Attack Speed
+20% Faster Hit Recovery
25% Increased chance of blocking
+25 Defense
+10 To Strength
+10 To Dexterity


(Patch 1.09 or later)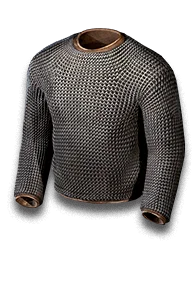 Diamond Mail
There is no unique version of this item


Defense: 380-449 (414 avg)
Ethereal Defense: 569-673 (621 avg)
Durability: 26
Ethereal Durability: 14
Required Strength: 74
Required Strength (Eth): 64
Required Level: 35
Quality Level: 43
Armor Type: Medium
Magic Properties:
Adds 20-65 Fire Damage
+120-160% Enhanced Defense

(varies)


+15 To Strength
+123 To Life (Based On Character Level)
Fire Resist +5%
4 To Light Radius
Socketed (2)


(Patch 1.09 or later)


Defense: 83-98 (90 avg)
Ethereal Defense: 124-146 (135 avg)
Durability: 26
Ethereal Durability: 14
Required Strength: 36
Required Strength (Eth): 26
Required Level: 14
Quality Level: 19
Armor Type: Medium
Magic Properties:
+20 To Attack Rating
+70-100% Enhanced Defense

(varies)


+15 Defense vs. Missile
+5% To Maximum Poison Resist
+5% To Maximum Cold Resist
+5% To Maximum Lightning Resist
+5% To Maximum Fire Resist
All Resistances +10
3 To Light Radius


(Patch 1.09 or later)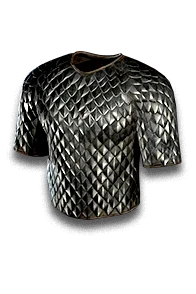 Loricated Mail
There is no unique version of this item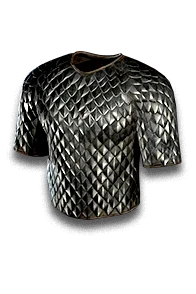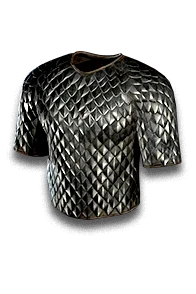 Defense: 477-534 (505 avg)
Ethereal Defense: 715-800 (757 avg)
Durability: 36
Ethereal Durability: 19
Required Strength: 86
Required Strength (Eth): 76
Required Level: 35
Quality Level: 45
Armor Type: Heavy
Magic Properties:
15% Increased Attack Speed
+15% Faster Hit Recovery
35% Chance of Open Wounds
+150-180% Enhanced Defense

(varies)


+15 To Dexterity


(Patch 1.09 or later)


Defense: 109-122 (115 avg)
Ethereal Defense: 163-182 (172 avg)
Durability: 36
Ethereal Durability: 19
Required Strength: 44
Required Strength (Eth): 34
Required Level: 15
Quality Level: 20
Armor Type: Heavy
Magic Properties:
15% Faster Run/Walk
+80-100% Enhanced Defense

(varies)


+15% To Maximum Cold Resist
Cold Resist +15%
Cannot Be Frozen


(Patch 1.09 or later)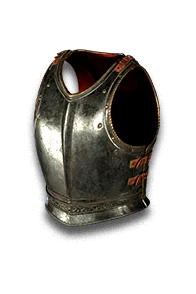 Great Hauberk
There is no unique version of this item


Defense: 529-732 (630 avg)
Ethereal Defense: 791-1035 (913 avg)
Durability: 150
Ethereal Durability: 76
Required Strength: 65
Required Strength (Eth): 55
Required Level: 41
Quality Level: 49
Armor Type: Light
Magic Properties:
+160-200% Enhanced Defense

(varies)


+123 Defense (Based On Character Level)
+15 To Strength
+99 To Life (Based On Character Level)
Cold Resist +50%
Lightning Resist +20%
Fire Resist +20%
Poison Resist +20%
Cannot Be Frozen


(Patch 1.09 or later)


Defense: 110-138 (124 avg)
Ethereal Defense: 164-206 (185 avg)
Durability: 50
Ethereal Durability: 26
Required Strength: 30
Required Strength (Eth): 20
Required Level: 20
Quality Level: 27
Armor Type: Light
Magic Properties:
+60-100% Enhanced Defense

(varies)


+15% To Maximum Poison Resist
Poison Resist +90%
Poison Length Reduced by 50%
2 To Light Radius


(Patch 1.09 or later)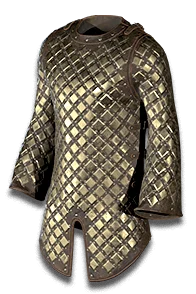 Boneweave
There is no unique version of this item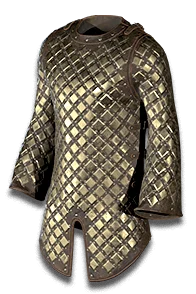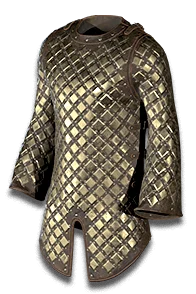 Defense: 599-684 (641 avg)
Ethereal Defense: 897-1025 (961 avg)
Durability: 45
Ethereal Durability: 24
Required Strength: 92
Required Strength (Eth): 82
Required Level: 38
Quality Level: 46
Armor Type: Medium
Magic Properties:
+180-220% Enhanced Defense

(varies)


+250 Defense vs. Missile
+60 To Life
Damage Reduced by 30%


(Patch 1.09 or later)


Defense: 133-140 (136 avg)
Ethereal Defense: 198-209 (203 avg)
Durability: 45
Ethereal Durability: 24
Required Strength: 48
Required Strength (Eth): 38
Required Level: 17
Quality Level: 23
Armor Type: Medium
Magic Properties:
Adds 1-20 Lightning Damage
+75-85% Enhanced Defense

(varies)


Lightning Resist +30%
Attacker Takes Lightning Damage of 10-14

(varies)




(Patch 1.09 or later)


Arkaine's Valor
Balrog Skin
Defense: 1295-1450 (1372 avg)
Ethereal Defense: 1942-2175 (2058 avg)
Durability: 30
Ethereal Durability: 16
Required Strength: 165
Required Strength (Eth): 155
Required Level: 85
Quality Level: 85
Armor Type: Medium
Magic Properties:
+1-2 To All Skill Levels

(varies)


+30% Faster Hit Recovery
+150-180% Enhanced Defense

(varies)


+49 To Vitality (Based On Character Level)
Damage Reduced by 10-15

(varies)




(Patch 1.10 or later)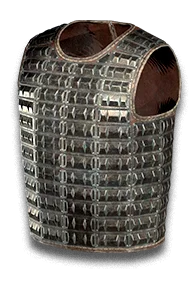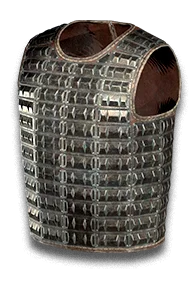 Skullder's Ire
Russet Armor
Defense: 634-732 (683 avg)
Ethereal Defense: 951-1098 (1024 avg)
Durability: 90
Ethereal Durability: 46
Required Strength: 97
Required Strength (Eth): 87
Required Level: 42
Quality Level: 50
Armor Type: Medium
Magic Properties:
+1 To All Skill Levels
+160-200% Enhanced Defense

(varies)


Magic Damage Reduced by 10
123% Better Chance Of Getting Magic Items (Based On Character Level)
Repairs 1 Durability in 5 Seconds


(Patch 1.09 or later)


Defense: 163-172 (167 avg)
Ethereal Defense: 243-258 (250 avg)
Durability: 30
Ethereal Durability: 16
Required Strength: 51
Required Strength (Eth): 41
Required Level: 22
Quality Level: 30
Armor Type: Medium
Magic Properties:
Freezes Target
+70-80% Enhanced Defense

(varies)


Cold Resist +30%
Magic Damage Reduced by 1
4 To Light Radius


(Patch 1.09 or later)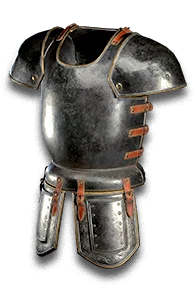 Archon Plate
There is no unique version of this item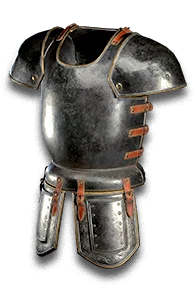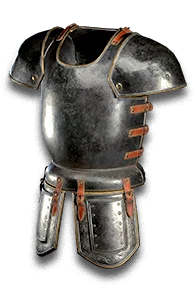 Que-Hegan's Wisdom
Mage Plate
Defense: 628-681 (654 avg)
Ethereal Defense: 942-1020 (981 avg)
Durability: 60
Ethereal Durability: 31
Required Strength: 55
Required Strength (Eth): 45
Required Level: 51
Quality Level: 59
Armor Type: Light
Magic Properties:
+1 To All Skill Levels
+20% Faster Cast Rate
+20% Faster Hit Recovery
+140-160% Enhanced Defense

(varies)


+15 To Energy
Magic Damage Reduced by 6-10

(varies)


+3 To Mana After Each Kill


(Patch 1.09 or later)


Defense: 216 (216 avg)
Ethereal Defense: 324 (324 avg)
Durability: 60
Ethereal Durability: 31
Required Strength: 41
Required Strength (Eth): 31
Required Level: 29
Quality Level: 39
Armor Type: Light
Magic Properties:
+50% Damage to Undead
+100 To Attack Rating Against Undead
+100% Enhanced Defense
+15 To Energy
Regenerate Mana 25%
All Resistances +10


(Patch 1.09 or later)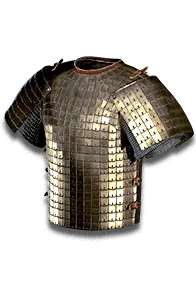 Hellforge Plate
There is no unique version of this item


Guardian Angel
Templar Coat
Defense: 770-825 (797 avg)
Ethereal Defense: 1153-1236 (1194 avg)
Durability: 60
Ethereal Durability: 31
Required Strength: 118
Required Strength (Eth): 108
Required Level: 45
Quality Level: 53
Armor Type: Heavy
Magic Properties:
+1 To Paladin Skill Levels
+30% Faster Block Rate
20% Increased chance of blocking
+247 To Attack Rating Against Demons (Based on Character Level)
+180-200% Enhanced Defense

(varies)


+15% To Maximum Poison Resist
+15% To Maximum Cold Resist
+15% To Maximum Lightning Resist
+15% To Maximum Fire Resist
4 To Light Radius


(Patch 1.09 or later)


Defense: 234-257 (245 avg)
Ethereal Defense: 350-385 (367 avg)
Durability: 60
Ethereal Durability: 31
Required Strength: 65
Required Strength (Eth): 55
Required Level: 26
Quality Level: 35
Armor Type: Heavy
Magic Properties:
+35 To Attack Rating
5% Life Stolen Per Hit
25% Chance of Open Wounds
+100-120% Enhanced Defense

(varies)




(Patch 1.09 or later)

Defense: 1514-1722 (1618 avg)
Durability: Indestructible
Required Strength: 174
Required Strength (Eth): 164
Required Level: 65
Quality Level: 73
Armor Type: Medium
Magic Properties:
Indestructible
+170-200% Enhanced Defense

(varies)


+100-150 Defense

(varies)


+40-50 To Strength

(varies)


Damage Reduced by 15-25%

(varies)




(Patch 1.10 or later)




(Ladder Only)

'


Defense: 713-888 (800 avg)
Ethereal Defense: 1048-1301 (1174 avg)
Durability: 48
Ethereal Durability: 25
Required Strength: 103
Required Strength (Eth): 93
Required Level: 48
Quality Level: 56
Armor Type: Medium
Magic Properties:
40% Chance of Open Wounds
+160-220% Enhanced Defense

(varies)


+40-60 Defense

(varies)


+10 To Strength
Fire Resist +15%
Attacker Takes Damage of 20-40

(varies)




(Patch 1.09 or later)
Defense: 212-243 (227 avg)
Ethereal Defense: 317-364 (340 avg)
Durability: 48
Ethereal Durability: 25
Required Strength: 50
Required Strength (Eth): 40
Required Level: 28
Quality Level: 38
Armor Type: Medium
Magic Properties:
+100-130% Enhanced Defense

(varies)


+5 To Strength
Damage Reduced by 5%
Requirements -10%


(Patch 1.09 or later)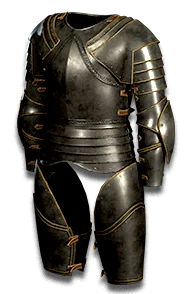 Lacquered Plate
There is no unique version of this item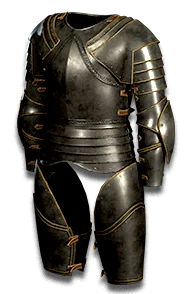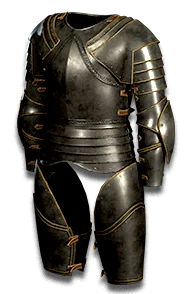 Atma's Wail
Embossed Plate
Defense: 670-988 (829 avg)
Ethereal Defense: 1004-1382 (1193 avg)
Durability: 105
Ethereal Durability: 54
Required Strength: 125
Required Strength (Eth): 115
Required Level: 51
Quality Level: 59
Armor Type: Medium
Magic Properties:
+30% Faster Hit Recovery
+120-160% Enhanced Defense

(varies)


+198 Defense (Based On Character Level)
+15 To Dexterity
Replenish Life +10
Increase Maximum Mana 15%
20% Better Chance of Getting Magic Items


(Patch 1.09 or later)
Defense: 328-335 (331 avg)
Ethereal Defense: 392-402 (397 avg)
Durability: 55
Ethereal Durability: 29
Required Strength: 70
Required Strength (Eth): 60
Required Level: 29
Quality Level: 39
Armor Type: Medium
Magic Properties:
+45 To Attack Rating
25% Chance of Crushing Blow
Hit Causes Monster to Flee 40%
+200 Defense


(Any Patch)


Steel Carapace
Shadow Plate
Defense: 1618-1785 (1701 avg)
Ethereal Defense: 2427-2678 (2552 avg)
Durability: 70
Ethereal Durability: 36
Required Strength: 230
Required Strength (Eth): 220
Required Level: 66
Quality Level: 74
Armor Type: Heavy
Magic Properties:
8% Chance To Cast Level 6 Iron Maiden When Struck
+20% Faster Hit Recovery
+190-220% Enhanced Defense

(varies)


Regenerate Mana 10-15%

(varies)


Cold Resist +40-60%

(varies)


Damage Reduced by 9-14

(varies)


Repairs 1 Durability in 20 Seconds


(Patch 1.10 or later)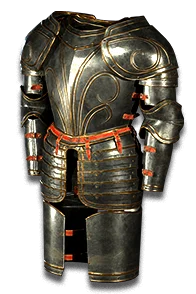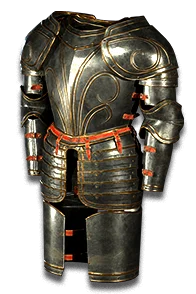 Defense: 823-1029 (926 avg)
Ethereal Defense: 1233-1542 (1387 avg)
Durability: 70
Ethereal Durability: 36
Required Strength: 140
Required Strength (Eth): 130
Required Level: 53
Quality Level: 61
Armor Type: Heavy
Magic Properties:
+30-60% Damage to Demons

(varies)


+200-250 To Attack Rating Against Demons

(varies)


+140-200% Enhanced Defense

(varies)


Half Freeze Duration
-2 To Light Radius
Socketed (3)


(Patch 1.09 or later)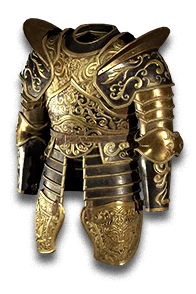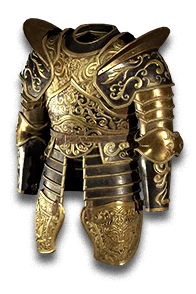 Defense: 356-405 (380 avg)
Ethereal Defense: 533-606 (569 avg)
Durability: 70
Ethereal Durability: 36
Required Strength: 80
Required Strength (Eth): 70
Required Level: 28
Quality Level: 38
Armor Type: Heavy
Magic Properties:
+120-150% Enhanced Defense

(varies)


All Resistances +35
Attacker Takes Damage of 10
100% Extra Gold From Monsters
2 To Light Radius


(Patch 1.09 or later)


Templar's Might
Sacred Armor
Defense: 1622-1923 (1772 avg)
Ethereal Defense: 2432-2883 (2657 avg)
Durability: 60
Ethereal Durability: 31
Required Strength: 232
Required Strength (Eth): 222
Required Level: 74
Quality Level: 82
Armor Type: Medium
Magic Properties:
+1-2 To Offensive Auras (Paladin Only)

(varies)


+20% Faster Hit Recovery
+170-220% Enhanced Defense

(varies)


+10-15 To Strength

(varies)


+10-15 To Vitality

(varies)


+40-50 Maximum Stamina

(varies)




(Patch 1.10 or later)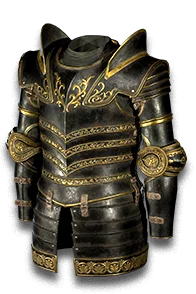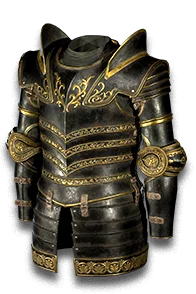 Defense: 1127-1262 (1194 avg)
Ethereal Defense: 1690-1892 (1791 avg)
Durability: 60
Ethereal Durability: 31
Required Strength: 170
Required Strength (Eth): 160
Required Level: 55
Quality Level: 63
Armor Type: Medium
Magic Properties:
6% Chance To Cast Level 2 Iron Maiden When Struck
Adds 12-36 Fire Damage
+150-180% Enhanced Defense

(varies)


+8 To Strength
+12 To Vitality
Cold Resist +35%
Level 5 Corpse Explosion (40/40)


(Patch 1.09 or later)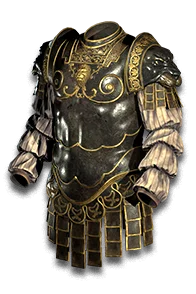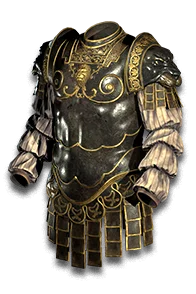 Silks of the Victor
Ancient Armor
Defense: 468-514 (491 avg)
Ethereal Defense: 701-771 (736 avg)
Durability: 60
Ethereal Durability: 31
Required Strength: 100
Required Strength (Eth): 90
Required Level: 28
Quality Level: 38
Armor Type: Medium
Magic Properties:
+1 To All Skill Levels
5% Mana Stolen Per Hit
+100-120% Enhanced Defense

(varies)


2 To Light Radius


(Patch 1.09 or later)

Tyrael's Might
Sacred Armor
Defense: 1322-1502 (1412 avg)
Durability: Indestructible
Required Strength: None
Required Strength (Eth): None
Required Level: 84
Quality Level: 87
Armor Type: Medium
Magic Properties:
Indestructible
20% Faster Run/Walk
+50-100% Damage to Demons

(varies)


Slain Monsters Rest in Peace
+120-150% Enhanced Defense

(varies)


+20-30 To Strength

(varies)


All Resistances +20-30

(varies)


Cannot Be Frozen
Requirements -100%


(Patch 1.10 or later)




(Ladder Only)

'
Unique Armors always use the Base (non-unique white) armor's highest def +1 when calculating the Enhanced Defense in the Unique version
Some items such as Sacred Armor has two unique version
A lot of the Elite Armors do not have a Unique version
Page link: https://www.diablo-2.net/uniques/armors