Page last updated: 15 February 2021 13:37
Diablo 2 News
14.02.2020 - Diablo 2 Remastered/Resurrected announcement likely during Blizzconline
Diablo 2 Remaster/Resurrected announcement is highly likely during this year's BlizzConline. It must happen during the opening ceremony or during the Diablo: What's next panel.
Watch Rhykker's analysis on the Blizzconline schedule here:
We also have the following tweet from famous for previously successful predictions - Kaiser499
World of Warcraft: The Burning Crusade Classic
Diablo II Resurrected
Hearthstone Expansion
Diablo: Immortal Release Date
Mobile Announcement(s)? (Warcraft Pet Battle Game)
New Heroes, Maps, Lore Sneak Peek for Overwatch 2
New Class, Area Reveal for Diablo IV#blizzconline #leaks pic.twitter.com/blDKltJrzl

— Kaiser499 (@Kaiser499) February 15, 2021
Reddit post
https://www.reddit.com/r/ProjectDiablo2/comments/ll7kww/diablo_ii_resurrected_will_be_presented_on
17.05.2020 - Possible Diablo II Remaster Announcement
There is a good chance that Diablo II Remaster might be announced as early as June this year (on the 20th Anniversary of Diablo II) on the "Summer of Gaming" event in June. Blizzard will be presenting in the event as posted by IGN in this article.
Here is the link to the official site of the event. Sign up to be notified and have a look at the schedule regularly.
25.06.2020 - No Remaster announcement yet
With a single blow, the exectations that we are going to hear about a D2 Remaster on 29th of June (on the 20th Anniversary) are gone. A community manager made the uncommon move to post in Reddit and disperse the rumors.
Hey all - We don't usually comment on rumors, but before this hype train goes off the rails we wanted to clarify that there are no upcoming Diablo announcements in June. The minions of hell are hard at work getting ready for the start of the next Diablo III Season, bringing you the next Diablo IV quarterly update (very) soon™, and we have some fun activities planned around the upcoming 20th anniversary of Diablo II.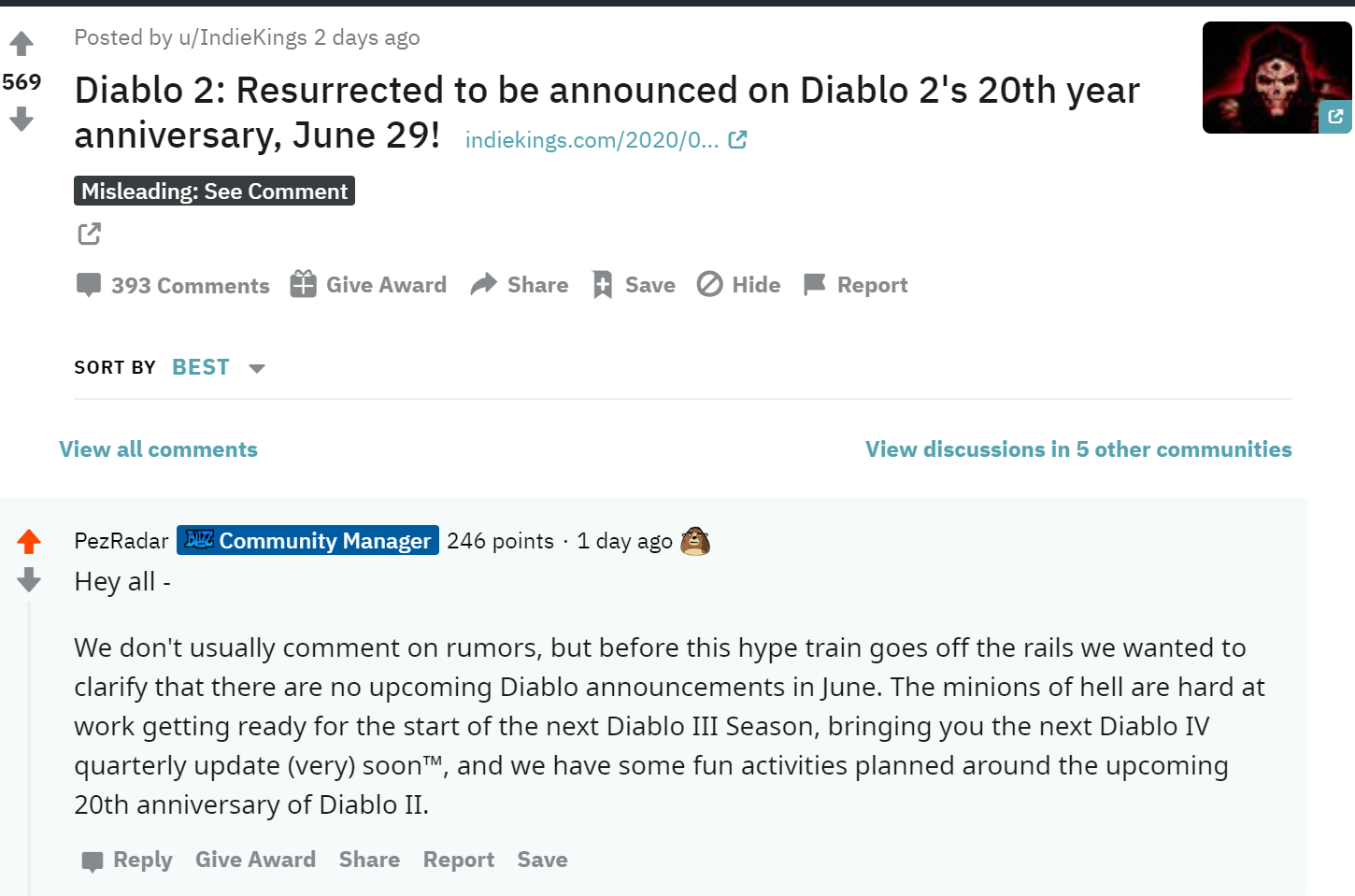 https://www.reddit.com/r/Diablo/comments/hemep2/diablo_2_resurrected_to_be_announced_on_diablo_2s/fvwfdxl/
10.05.2020 - New Leaks of potential Diablo II remaster
A leak came out of the Actugaming website of a potential Diablo II Remaster leak. They state that it is in the works for some time now and that its name will be Diablo 2: Resurrected. There is some coverage by famous gaming news delivery channels such as Rhykker and article in Forbes. Links below:
https://www.forbes.com/sites/paultassi/2020/05/10/report-diablo-2-resurrected-remaster-coming-this-year-built-by-former-destiny-2-support-studio/#f3b76873c509
20.06.2020 - More Remaster hints
With news around the "Summer of Gaming" Blizzard events disappearing from the schedule, new hope comes along. Blizzard had posted a job offer which clearly states that Diablo is one of the classics being brought to life
Whether it's battling the Zerg in the Koprulu sector, staking your claim in Azeroth,
or saving the High Heavens from the wrath of Diablo
, these titans are being modernized to new heights and need a versatile champion to embark on this journey with us to create new adventures. You should be spec'd into engineering talents, passion, and armed with a fierce hunger to modernize technology.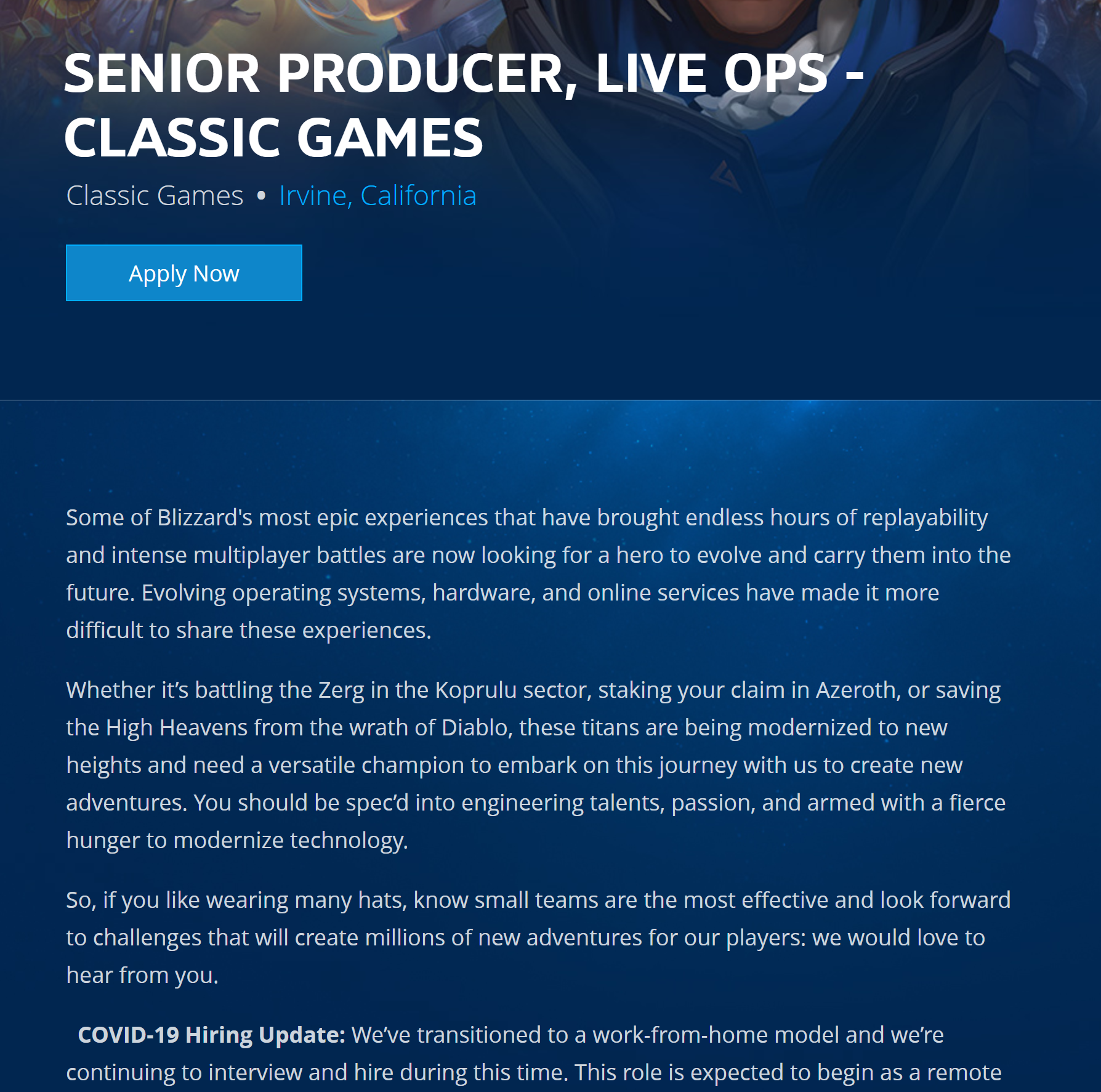 Here is a link to the actual offer (some day they will bring down the job offer)
21.05.2020 - Ladder Reset - 5th June
Season 26 will start on 5th June. It was just announeced on the Official Bllizard forums
Greetings everyone,
The minions of hell grow stronger and are looking for a fight! We are scheduling to reset the Diablo II ladder on Friday, June 5th at 5:00PM PT!
Get ready! Be prepared! Get to the top of the ladder! See you in a few weeks for the latest ladder reset!
Cheers,
Diablo Community Team
https://us.forums.blizzard.com/en/blizzard/t/diablo-ii-ladder-reset-june-5th/7363?u=skarsburning-2603
18.04.2020 - Kurast Temple in Unreal Engine
A fanmade Kurast Temple in Unreal Engine has surfaced few days ago. Toni Dorotić recreating the legendary Act III town in the Unreal game engine. It looks stunning.
17.09.2020 - Indrek with World Record Speed Run (again)
Indrek once again made history by breaking his own world record speed run - now 51:58!!!
18.05.2020 - First ever sub 1-hour D2:LOD speedrun
Slimo is a streamer who just broke the 1 hour barrier for speedruns in Diablo 2: LOD Normal playthrough. Very interesting tactics. Farming Jail Act 1 for most of the run, then just starts teleporting and obliterating bosses. Manages just under 1 hour - 59:29. Spectacular performance and a legendary moment for the Diablo 2 community
19.02.2021 - Diablo 2 Resurrected Announcement
Diablo 2: Resurrected was just announced at BlizzConline 2021!!!
The Lord of Destruction Returns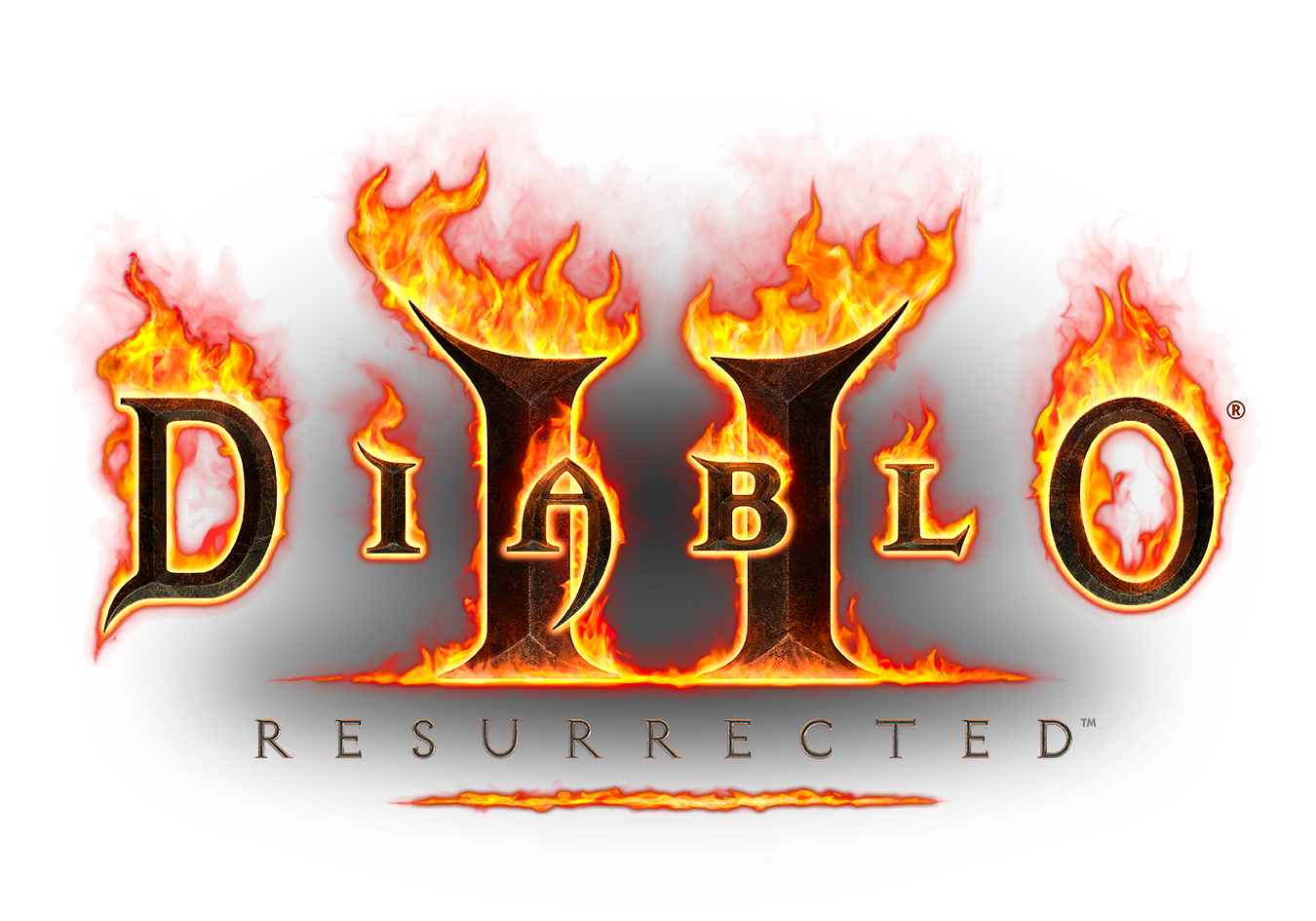 Diablo game director announced the Diablo 2 Remaster called Diablo 2: Resurrected
It looks different from what most people were anticipated. It looks like it will be a whole redesign.
There is now an official website for the game - https://diablo2.blizzard.com/
Sign up for the Technical Alpha

MrLammaSC had an interview with the devs currently working on Resurrected and they are very cool and passionate guys.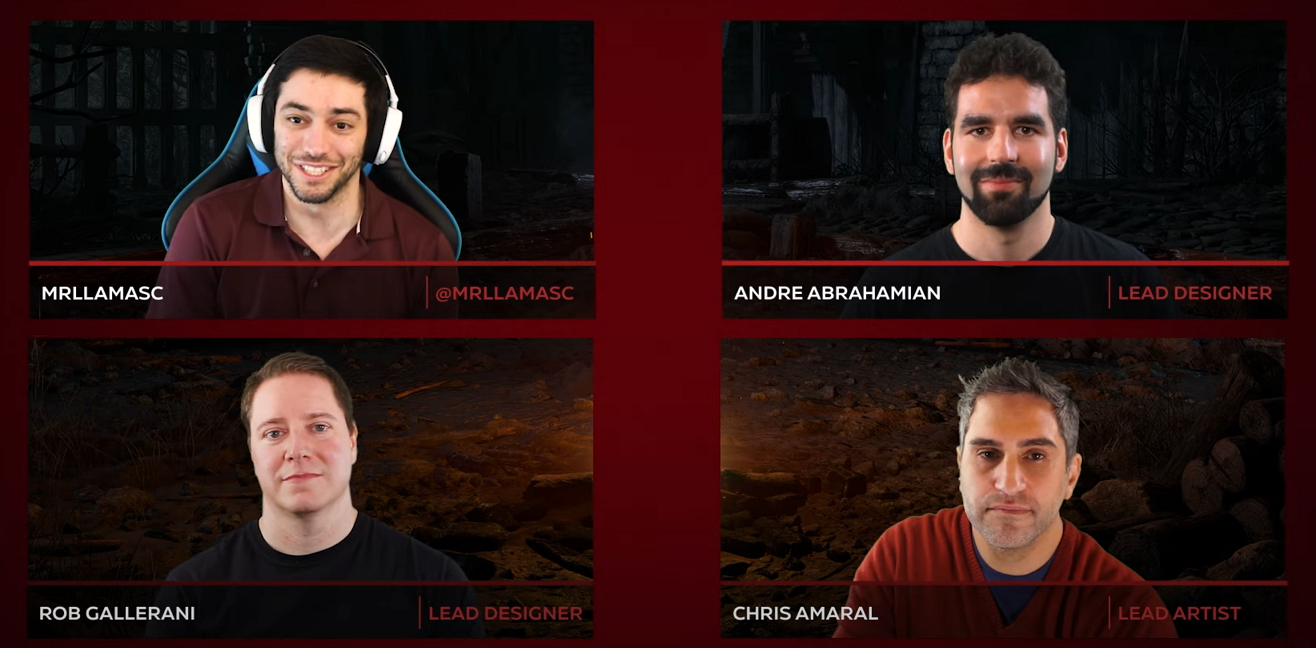 New Features
PC & all consoles this year for $39.99 and Prive Evil Collection for $59.99. If you want to play a PC & Console you need separate purchases

Prime Evil edition includes:

Release date in 2021

Diablo 2: Resurrected Release Date in 2021

Moving from 2D to 3D
No changes to Trading
Improvement on how you browse for Battle.net games
Seasons to be less than 6 months long
Can be played offline
Moving over to the modern Battle.net helps with duping and bots. They weren't specific on any other methods of stopping bots/duping for now
Duplicate character names will be allowed. Behind the scenes the character name will be tied to your Bnet tag
People can play Cross-region, i.e Europe, Asia, US
Remastered graphics—monsters, heroes, items, spells, sounds, cinematics all resurrected
Ultra High Definition 4k (2160p) remastered graphics on PC—or enjoy the original Diablo II, old-school style—at the press of a button with the legacy toggle with. When you switch back to classic the old classic Diablo 2 will be running as it was never remastered
Faster Cast Rate and other framing counters will swtich from using frames to time but designers say that there will not be a change in the numbers
Cross progression - Planned support for cross-progression—take your progress wherever you play. Cross-progression requires a linked Battle.net account and separate Diablo II: Resurrected purchase for each supporting platform.
All Cinematics remastered
Optional Gold Autoloot
Item comparison using Shift key. No recommendation

Diablo 2: Item Comparison

Expanded Stash

Personal Stash increased from 6x8 to 10x10 grid.
Shared Stash tab available to all characters on a single Battle.net account.
Transfer gear easily between heroes—no mules required.

Expanded Stash

Redesigned UI including Advanced Stats - Calcualtion of all magic properties such as total MF

Redesigned UI

Revamped Ladder Seasons

Revamped Ladder Seasons
Announcement Trailer
Here is the whole announcement trailer. The tailer says that the game will be released in 2021 on PC and Consoles and it will have cross progression!
Here is the gallery of what we've got so far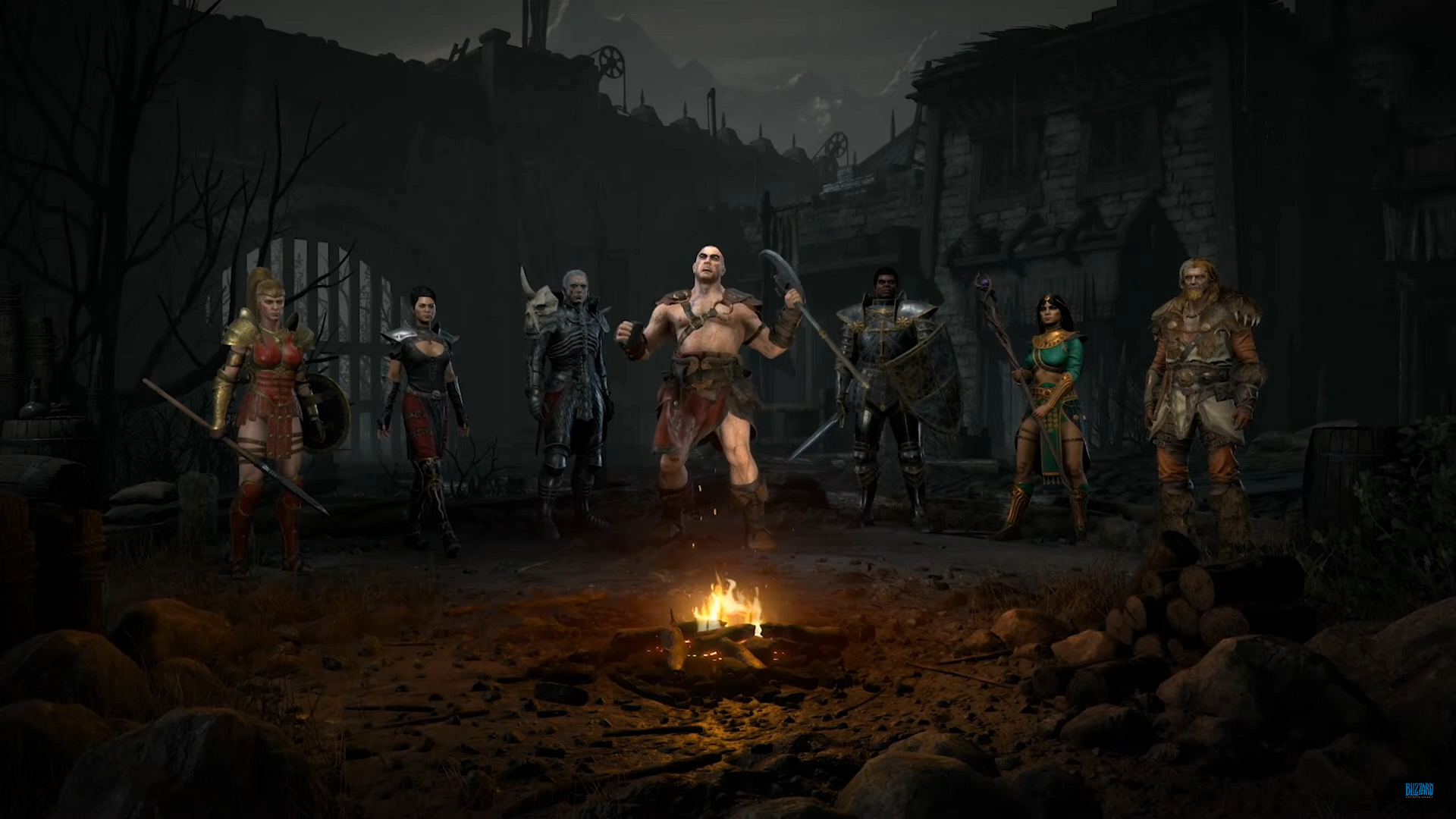 This article will be updated with new content when new content is available
29.06.2020 - Happy 20 Anniversary Diablo II
Today our favorite game turns 20!!!!
Some days after the game went out, I went to a "bazar" and bought myself a cut single-player only copy of the game and went home to install it to my "gaming rig" of 256MB RAM and Petnium 4. Huge beast back then. The jouney started. Me and my friend started playing one character and taking turns so we do this 24/7. Our pick? - A Necromancer with a Polaxe, killing Diablo on Normal after 100 deaths and 1h10m of fighting. Glorious days.
So how did Blizzard respond to the 20th Anniversary?
We received an email with the following content: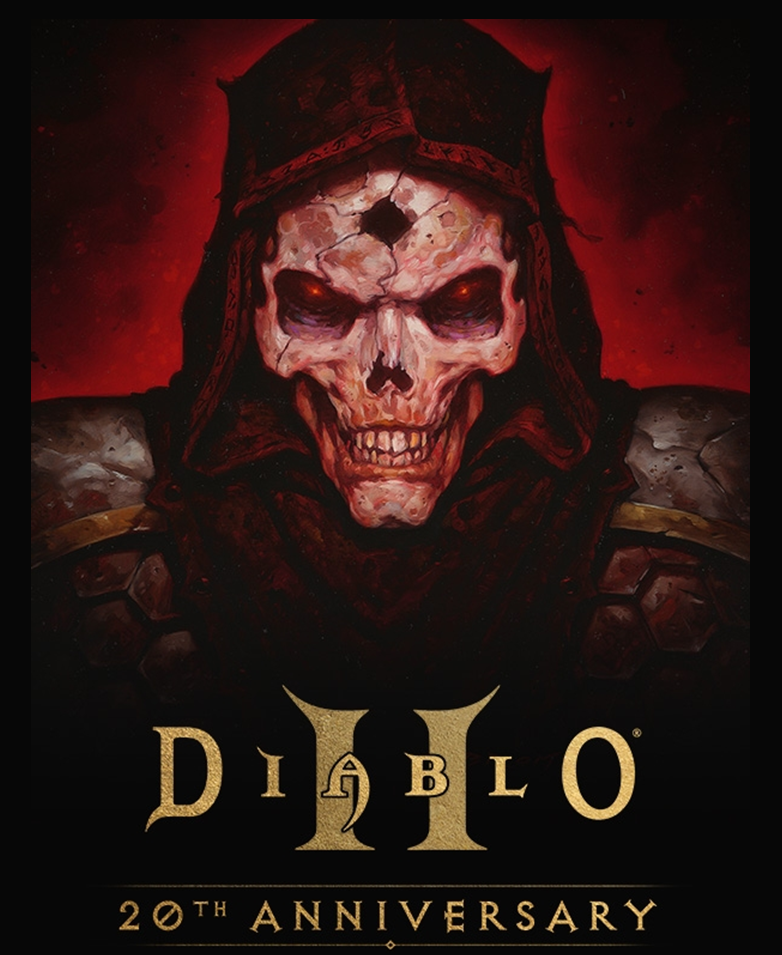 Animation created by CarbotAnimations and sponsored by Blizzard called "Diablo 2 Baal Runz 101"
New Baal-like Diablo 3 Wings for anyone who logs in.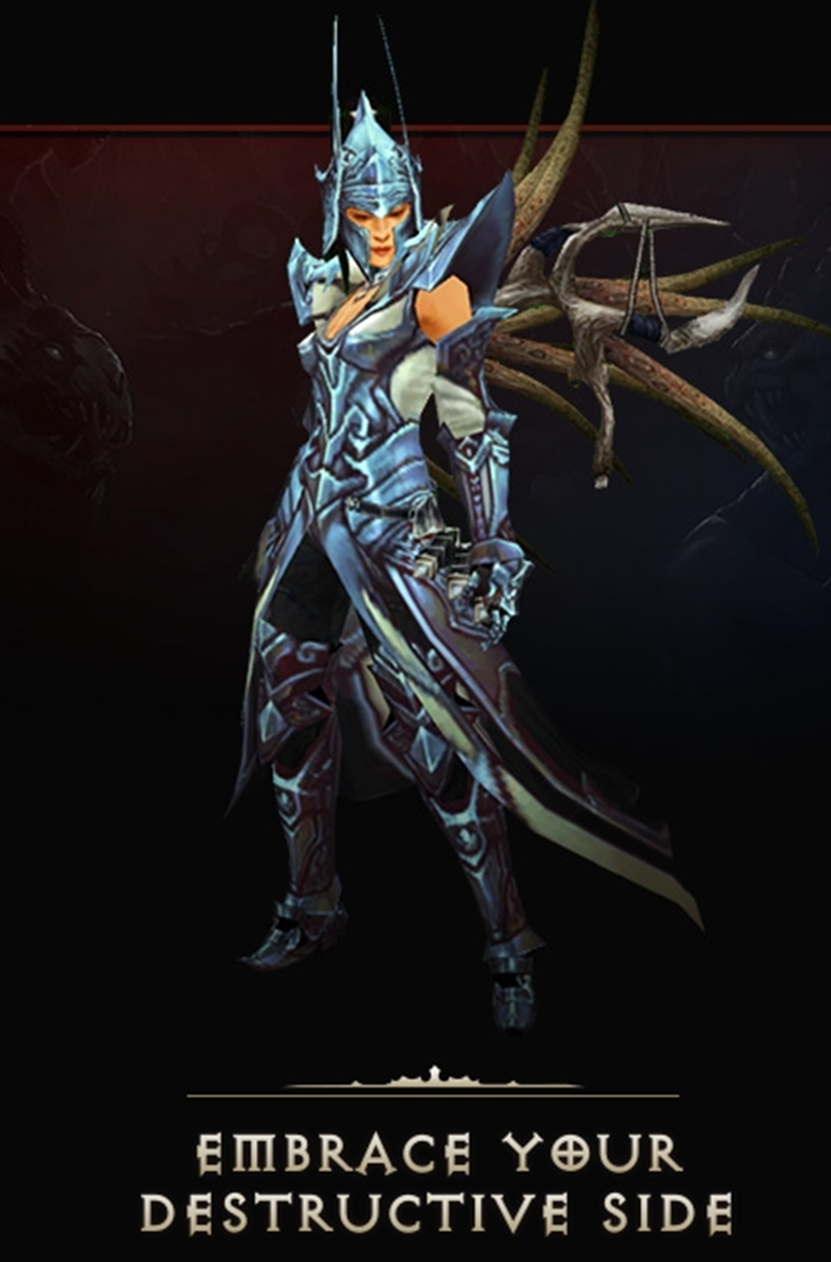 New physical statue for sale on the blizz gear store
https://www.blizzardgearstore.com/stores/blizzard/en/product/diablo-diablo-bust/293106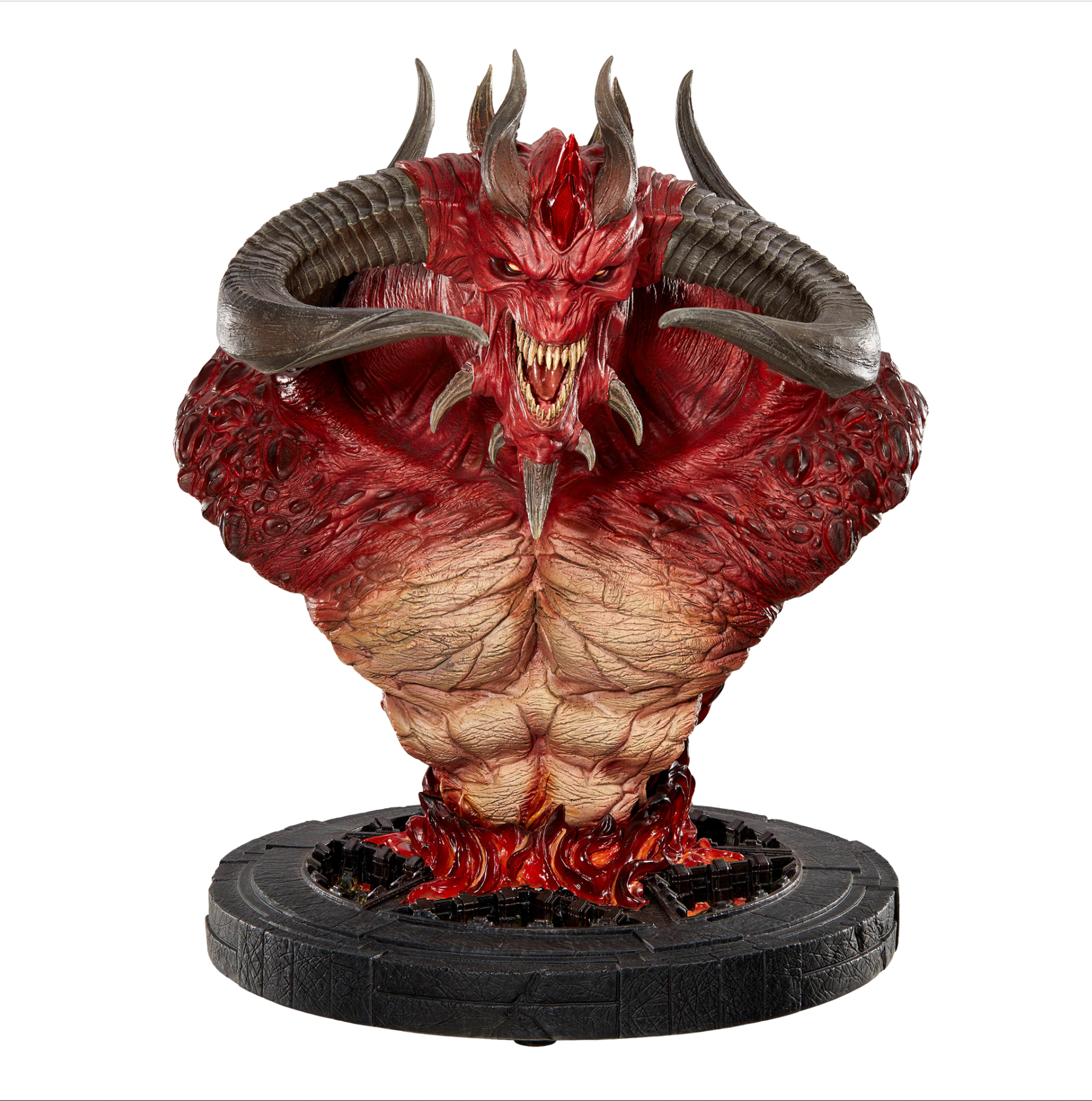 A Blizzard-sponsored MrLammaSC anniversary speed run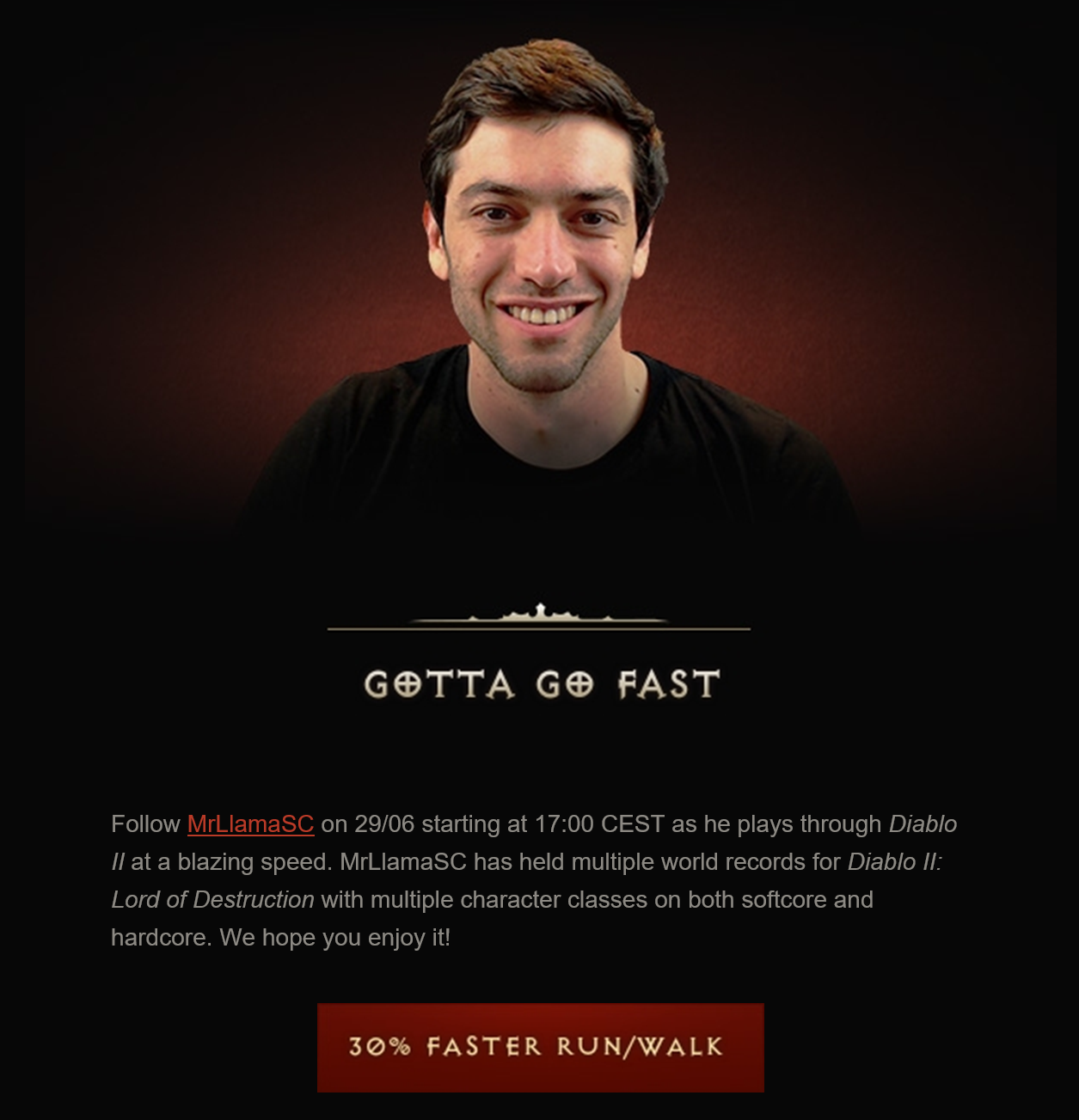 And some posts about what Diablo 2 is to some of the people in Blizzard
https://eu.diablo3.com/en/blog/23459856
https://news.blizzard.com/en-gb/diablo3/23459856/commemorate-20-years-of-diablo-ii-with-carbot-mrllamasc-and-new-in-game-wings
30.08.2020 - David Brevick on Remaster (again)
There hasn't been much news around Diablo II for the past two months. However, recently David Brevik has spoken again on the subject of remastering Diablo 2. Here is the article and clip:
13.05.2020 - Diablo 3 Blizzard North screenshots
This is super exciting stuff. Recently, old Diablo 3 screenshots from early development of Diablo 3 surfaced on Purediablo, showing what the D2 team's vision for Diablo 3 was in early development before things changed and the development stopped. I am not going to post the images here, better go to the source and look for yourselves.
https://www.purediablo.com/more-blizzard-north-diablo-3-shots-surface/
https://www.purediablo.com/forums/media/categories/diablo-iii-blizzard-north-version.600/
26.01.2020 - Diablo II Upscale project
Finally some good news for the Diablo II community
A user in Reddit called zomprd is working on a upscale Diablo II project that uses AI to increase the resolution of the Diablo assets. He is asking for feedback.
Reddit post - https://www.reddit.com/r/Diablo/comments/ejount/diablo_2_upscaled_fullhd_prototype_webapp/
You can check it ouy yourself directly from your browser - https://quiet-springs-45295.herokuapp.com/
14.06.2020 - Diablo II: Resurrected Release Date announcened
Blizzard had just announced the Diablo 2: Resurrected release date and it's all we've been hoping for - Early Fall - 23 September 2021 (21/09/2021). They announced this via a cool Street Date Trailer on YouTube
Twitter announcement
On September 23rd, Evil will be resurrected.

🔥 Pre-order Diablo II: Resurrected for early access to the open beta: https://t.co/g5NwAS3OFo pic.twitter.com/LD7JNBztx4

— Diablo (@Diablo) June 13, 2021
18.02.2020 - Diablo II Remaster hope comes back
In a recent TweakTown article, the hopes of Diablo II Remastered are renewed as Activision Blizzard CEO - Bobby Kotick announcened the following during the last Q420 earning's call:
"In addition, our business units will continue to tap into our portfolio of beloved IP to bring several remastered and re-imagined experiences to our players in 2020, which we will announce closer to launch,".
There is fear however of Diablo II Remastered being a let down just like Warcraft III: Reforged after the recent debacle. We, the true fans, remain optmistic and will continue to support the game and develope tools for it.
Another fear of Diablo II Remastered are the huge technical difficulties of how the game is designed. For example, monsters attack you based on line of sight, so the question is how will they attack you when the screen is now 8 times bigger in resolution. This is explained in good detail by the one and only David Brevick(legendary Diablo I and II game creator & designer). Read more about it here.
Old News
30.12.2019 - Diablo II Europe Ladder Season 25 Level 99
Less than a month and we have a level 99 in both Softcore and Hardcore ladders
Softcore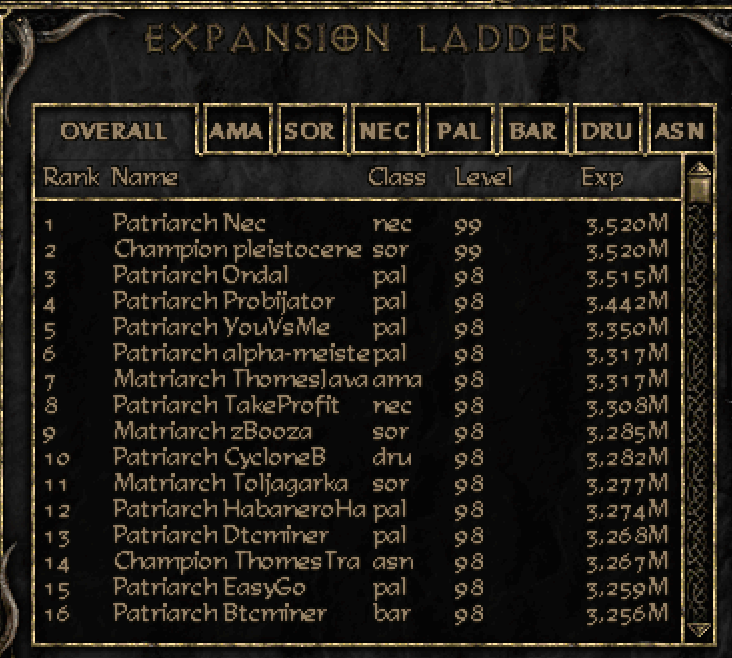 Hardcore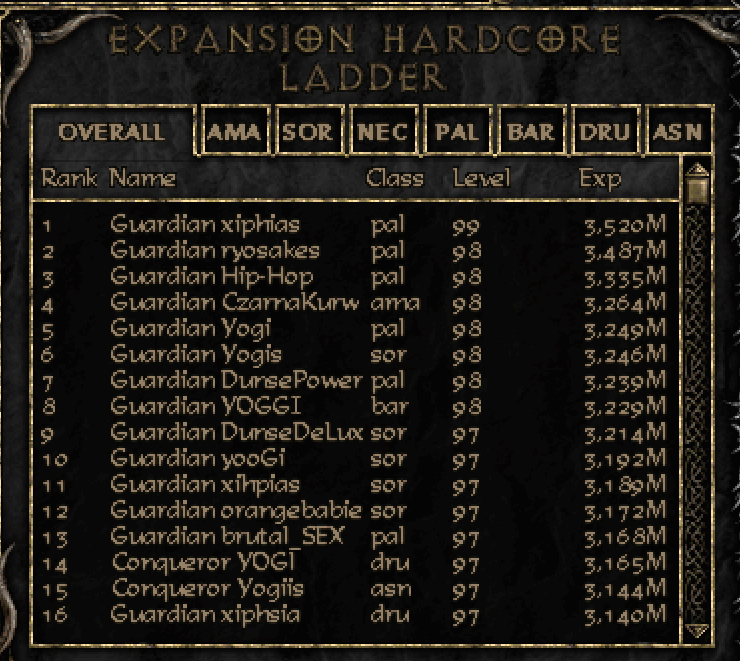 20.12.2019 - Diablo II Europe Ladder Reset ranking update
Here is the ranking almost 2 weeks after the Ladder reset
The top hardcore player has higher experiience points than the top softcore player so it's likely to see a hardcore win for race to Level 99 on overall Europe. Also we see that we have a dead hardcore player at rank 3 -:(
Softcore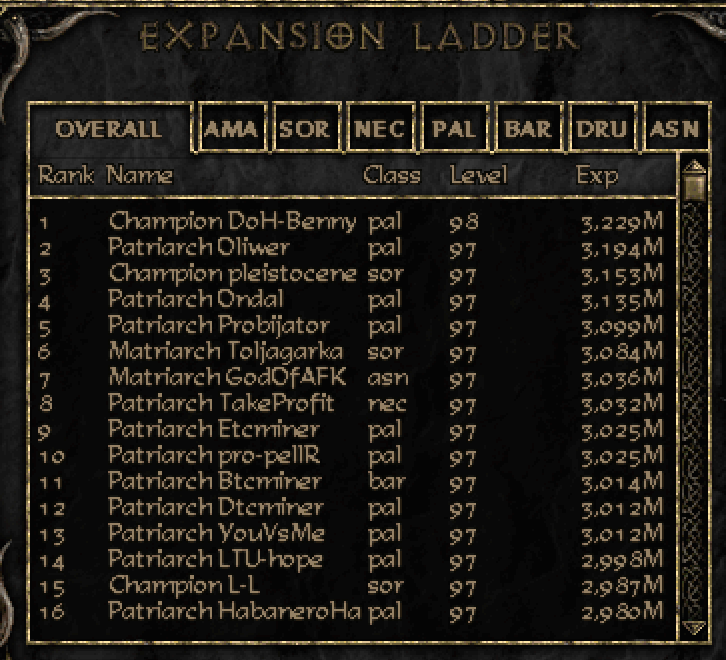 Hardcore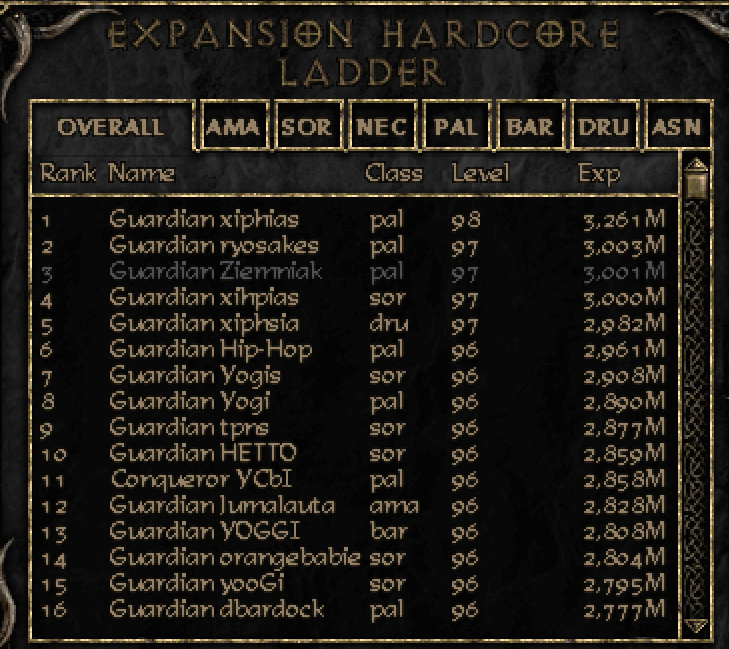 07.12.2019 - Diablo II Europe Ladder Reset ranking in the first 24 hours
Here is the ranking 24 hours after the Ladder reset
Softcore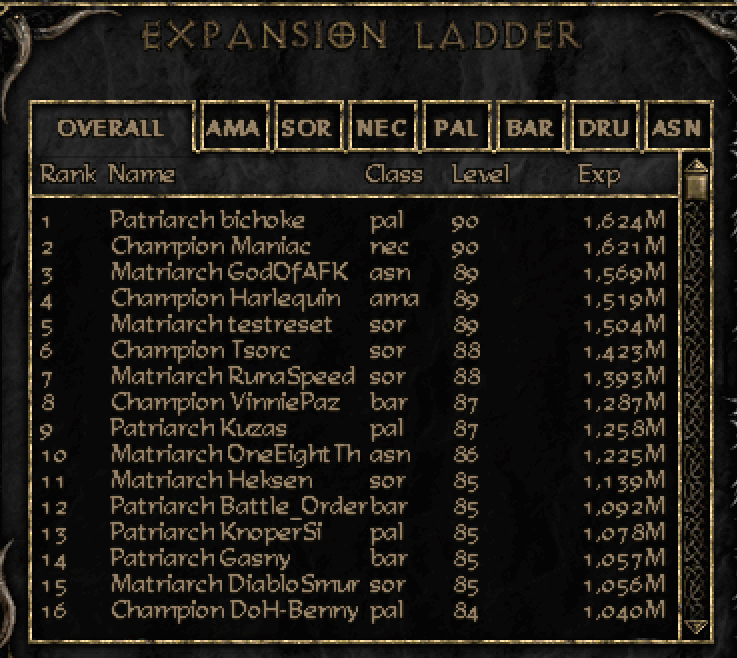 Hardcore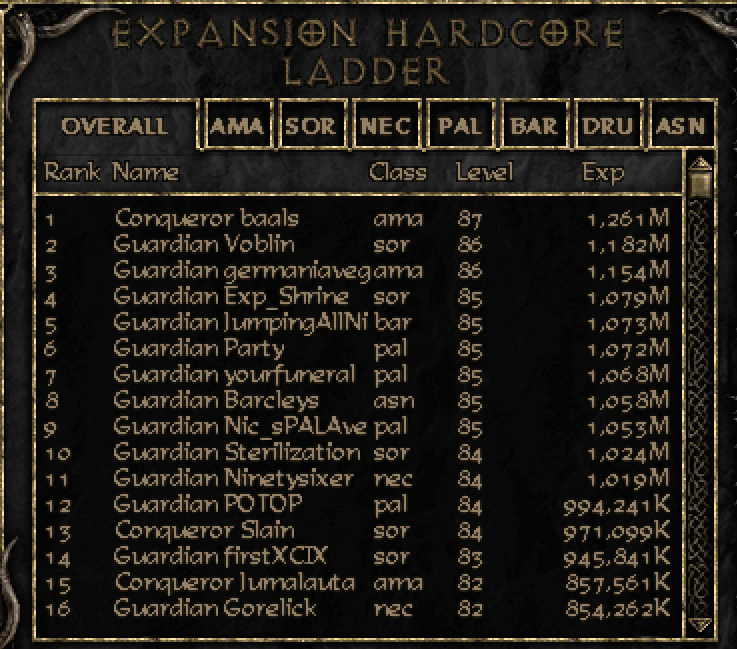 06.12.2019 - Diablo II Ladder Reset - Season 25 Begins
We are now in Season 25. However there are stability issues with many reporting "Failed to join game" errors. This is has been addressed with a server fix.
Official statement
22.11.2019 - Diablo II Ladder Reset
Next ladder reset in Diablo II will be on 6th December 2019
Greetings adventurers,
Darkness gathers and it is once more time to fight the evils that lurk below Sanctuary. The next Diablo II ladder reset is scheduled for Friday, December 6 at 5:00 PM PT!
We'll see you in a couple weeks for the latest ladder reset!
Cheers,
Diablo Community Team
https://us.forums.blizzard.com/en/blizzard/t/diablo-ii-ladder-reset-coming-december-6/2130
[D2] The next ladder will reset on Dec.6! pic.twitter.com/sJIDp2sXuq

— Diablo (@Diablo) November 21, 2019
28.10.2019 - Website Updates
Hello there friends!!! I have decided to redesign the whole page and bring it back to life under a new domain "diablo-2.net" and also to start modernizing it as I think that Diablo 2 Remastered will be coming soon
Page is now redesigned from pure html and css to php
I will be keeping the old design of things
06.06.2016 - Website Updates
Updated the Battle.net site with a new video. Also made it open on the main page
Corrected a couple of spelling mistakes
Mercenaries page is now adapted to open on the main page as well
Shrines page also now opens on the main page
Added an arrow that will transport you to the top of the page
Still to be done:
Horadric page code optimization
Screenshots page
Acts page
Monsters redesign. Perhaps a clone to the main page and let different monster categories to open in the main iframe and edit the navigation menu
Create my own Classes page
Redesign "Story" page or leave it as a monument to what the Story for Diablo was back in 2009
Videos page
Improve "Other Articles" menu. Perhaps an Info page that is clone to the main page, just like Monsters should be
08.12.2015 - New Video
Now that I am 99 with both HC and SC chars I can do what I've also wanted to do. Get my merc to fight Mephisto and Diablo 1v1!!! Here is the video:
24.11.2015 - Lost the race
Unfortunately I lost the 99 race. Today they have just reset the ladder and my hardcore was at 98 lvl and 96%. I can't really believe that this was so close. My pala is now non-ladder char but I will still make him 99 :) Build is the same as my softcore 99 but with Shako with Ber instead of the CoA. Everything else is the same.
02.11.2015 - Updated pages
I have updated the pages - Shrines and Mercenaries.
Instead of them loading in a separate page, I have now amended code so they can open within the mainpage and fit properly. Also updated the css. Next one is Horadric Cube page. Should be mostly code optimization so there shoulnd't be much of a visual difference unsless I decide to change the spans.
29.10.2015 - Level 99 Softcore Ladder
Finally I hit 99 on my softcore char.
In these modern times I recorded the event. The stats and build can be seen in the video.

The gear:
Weapon: Heart of the Oak Flail 40 all resist
Shield: Perfect (148 base def) Stormshield with no socket
Helm: Crown of Ages 24all/13dr with 2 Ber runes
Gloves: Perfect (30% Ed) Magefist upgraded to Battle Gauntlets
Ring 1: 10% faster cast rate rare ring with some resists
Ring 2: Perfect Raven Frost
Belt: Perfect (200 % Ed) Thundergod's Vigor
Boots: Perfect (20& Ed) Hotspur upgraded to Wyrmhide Boots
Amulet: Perfect (30 All Resist) Mara's Kaleidoscope
Armor: Enigma Archon Plate
Charms: As seen on the video, Torch 16/20, Anni 18/19/9 and the rest 20 Life SCs

Alternative Weapons:
Weapon: Call to Arms Crystal Sword - 3/6/3
Shield: Perfect (148 base def) Stormshield with no socket
Merc:
Act 2 Defensive Desert Merc from Nightmare with Holy Freeze Aura. The gear:
Stats: Overview unbuffed and buffed
Helm: Ethereal Andariel's Visage with no socket (yet)
Weapon: Ethereal Insight Cryptic Axe - Unfortunately with 12 LvL Meditation Aura
Armor: Fortitude Sacred Armor 4003 Defense - 26 All Resist

In general I have chosen hardcore style of gear so I don't die a lot especially after 97 lvl, although I died once at 98 which was very weird. Dying at 98 hurts a lot.
Here is how long it took:
96 lvl on 28.08.2015
98 lvl on 21.09.2015
I can now gear this wonderful 99 hammerdin in some damage gear. The plan is to replace the CoA with Shako, Stormshield with Spirit Targe, Thundergod with Arachnid, the Raven with SOJ and also to put some Combat Skillers. I will post a video and stats once I do this.
With this out of the way I can now focus on my Hardcore char who sits and waits on 98 lvl - 10%. :)
29.10.2015 - Updated Section
Updated the Downloads Section. It has some cool and core tools for every D2 fanatic. I will try to add more.
23.10.2015 - Playing D2 again
I have been playing since this year's ladder reset on 26th of May. I didn't start immediately but when I started I was again all in, just like in 2009 when I last played. I started playing Softcore ( duh...) with some colleagues and I am almost at the finish line today - 23.10.2015
Djongov-MF (Softcore Sorceress) - 96 lvl, 700 MF
Robota-Reborn (Softcore Hammerdin) - 98 lvl, 71.4%
I also play hardcore (so far alone) with great progress
Djongov-HC (Hardcore Hammerdin) - 98 lvl, 10.1%
Vihrushko-BG (Wind Druid) - 95 lvl, deceased
BoBarb-BG (BO Barb) - 85 lvl
23.10.2015 - Website Updates
Well... it's been a while since I've done any work on the site. It was created 2009 and now 6 years later it's time to put some new technologies and improve code. I've spent good several days of coding the site but the improvements are insanely good. The changes are:
Clearing code pollution. The website was created using Web Builder which is a "what you see is what you get" type of html builder so it really pollutes the page with unnecessary code. Also I wanted to modernize the code by structuring it properly and extensively use CSS so i can control the site easier. What has been done so far:
Unique Items Page
Changed the structure. Created a separate page for each class of uniques
Every type of Unique will now load independently
Changed the color to the true unique one and also changed the (varies) color to white
Redesigned the whole code so I can control it through CSS and be able to change every part of the page with just one click
The results are - better navigation, better looking, more accurate, scalable for any future changes. So many years later i have never seen a Uniques page structured in the same way
Set Items Page
Structure remains the same but I have redisgned the whole code to include CSS so I can control the page better
Code is now structured and beautiful
Changed sets.html to index.html. Sets2.html stays the same
Runewords 1.10 page
Designed a Navigation for the Runewords. Like Uniques - Never seen before runewords structured by Weapon/Armor type. Go check it
Restructured the code to use CSS for control of the page
Designed the Runewords to be in tables just like Sets and Uniques
Corrected some mistakes of mistaken runes not being in the same order as they should be
Supplied new screenshots for some of the Runewords
Did a slight change to the Runewords 1.11 page just to structure the code but won't do any css work on it. Just not worth for a few Runewords
What's next on the menu
To remove code pollution on main page and apply CSS
Do the same for battle.net page and Horadric Cube page
Redoing the Monsters page is a really really huge effort so I want to do it but I might not find the time
Page link: https://www.diablo-2.net/news/