Page last updated: 28 November 2019 00:36
NEWS
22.11.2019 - Diablo II Ladder Reset
Next ladder reset in Diablo II will be on 6th December 2019
Greetings adventurers,
Darkness gathers and it is once more time to fight the evils that lurk below Sanctuary. The next Diablo II ladder reset is scheduled for Friday, December 6 at 5:00 PM PT!
We'll see you in a couple weeks for the latest ladder reset!
Cheers,
Diablo Community Team
https://us.forums.blizzard.com/en/blizzard/t/diablo-ii-ladder-reset-coming-december-6/2130
[D2] The next ladder will reset on Dec.6! pic.twitter.com/sJIDp2sXuq

— Diablo (@Diablo) November 21, 2019
01.11.2019 - Diablo IV
Minutes ago Diablo 4 was announeced at Blizzcon
Lilith: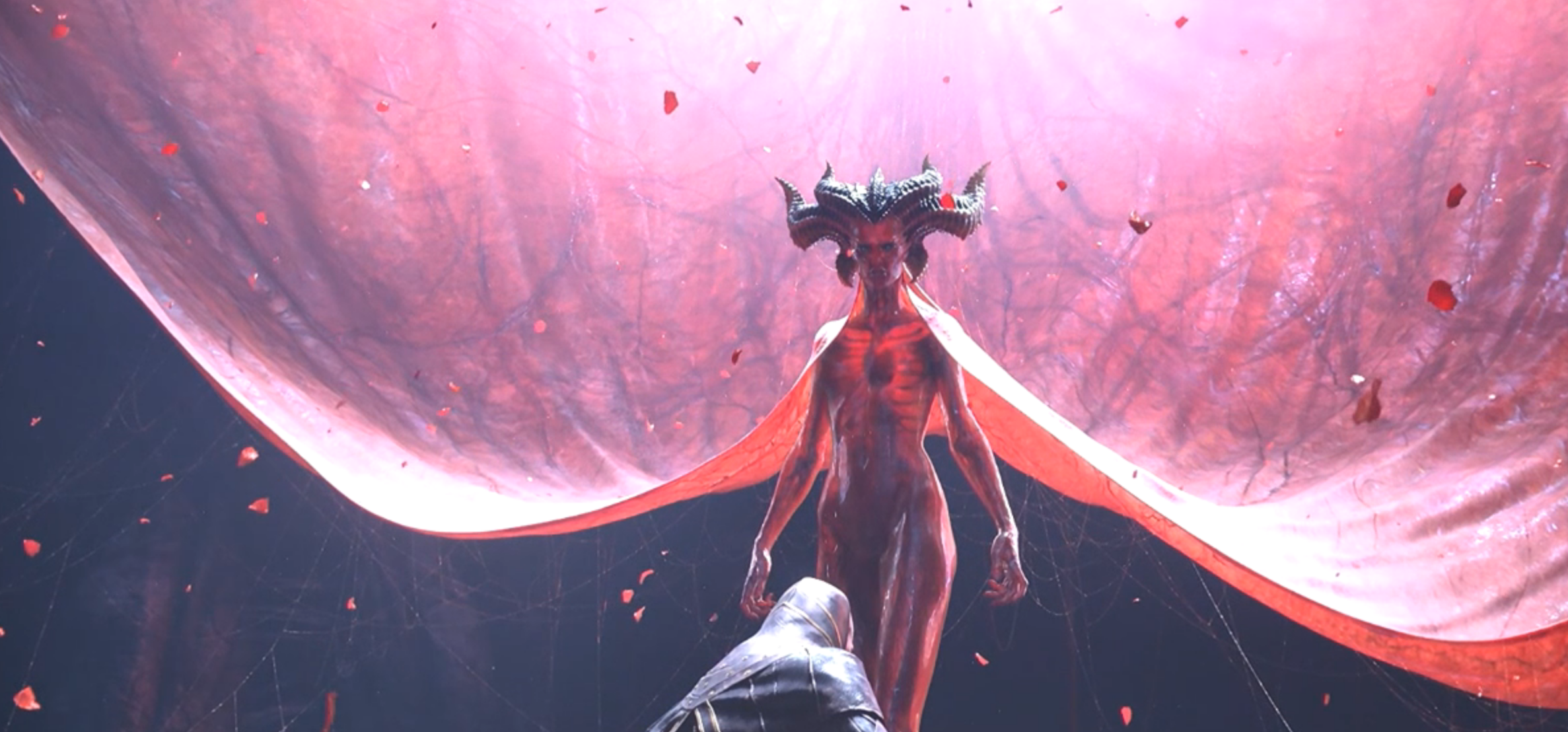 Official Cinematic of Diablo IV
28.10.2019 - Website Updates
Hello there friends!!! I have decided to redesign the whole page and bring it back to life under a new domain "diablo-2.net" and also to start modernizing it as I think that Diablo 2 Remastered will be coming soon
- Page is now redesigned from pure html and css to php
- I will be keeping the old design of things


06.06.2016 - Website Updates
- Updated the Battle.net site with a new video. Also made it open on the main page
- Corrected a couple of spelling mistakes
- Mercenaries page is now adapted to open on the main page as well
- Shrines page also now opens on the main page
- Added an arrow that will transport you to the top of the page

Still to be done:
- Horadric page code optimization
- Screenshots page
- Acts page
- Monsters redesign. Perhaps a clone to the main page and let different monster categories to open in the main iframe and edit the navigation menu
- Create my own Classes page
- Redesign "Story" page or leave it as a monument to what the Story for Diablo was back in 2009
- Videos page
- Improve "Other Articles" menu. Perhaps an Info page that is clone to the main page, just like Monsters should be
08.12.2015 - New Video
Now that I am 99 with both HC and SC chars I can do what I've also wanted to do. Get my merc to fight Mephisto and Diablo 1v1!!!
Here is the video:

24.11.2015 - Lost the race
Unfortunately I lost the 99 race. Today they have just reset the ladder and my hardcore was at 98 lvl and 96%. I can't really believe that this was so close. My pala is now non-ladder char but I will still make him 99 :) Build is the same as my softcore 99 but with Shako with Ber instead of the CoA. Everything else is the same.
02.11.2015 - Updated pages
I have updated the pages - Shrines and Mercenaries.
Instead of them loading in a separate page, I have now amended code so they can open within the mainpage and fit properly. Also updated the css. Next one is Horadric Cube page. Should be mostly code optimization so there shoulnd't be much of a visual difference unsless I decide to change the fonts
29.10.2015 - Level 99 Softcore Ladder
Finally I hit 99 on my softcore char.
In these modern times I recorded the event. The stats and build can be seen in the video.

The gear:
Weapon: Heart of the Oak Flail 40 all resist
Shield: Perfect (148 base def)

Stormshield

with no socket
Helm:

Crown of Ages

24all/13dr with 2 Ber runes
Gloves: Perfect (30% Ed)

Magefist

upgraded to Battle Gauntlets
Ring 1: 10% faster cast rate rare ring with some resists
Ring 2: Perfect

Raven Frost


Belt: Perfect (200 % Ed)

Thundergod's Vigor


Boots: Perfect (20& Ed)

Hotspur

upgraded to Wyrmhide Boots
Amulet: Perfect (30 All Resist)

Mara's Kaleidoscope


Armor: Enigma Archon Plate
Charms: As seen on the video,

Torch 16/20

,

Anni 18/19/9

and the rest

20 Life SCs



Alternative Weapons:
Weapon: Call to Arms Crystal Sword - 3/6/3
Shield: Perfect (148 base def)

Stormshield

with no socket
Merc:
Act 2 Defensive Desert Merc from Nightmare with Holy Freeze Aura. The gear:
Stats: Overview unbuffed and buffed
Helm: Ethereal

Andariel's Visage

with no socket (yet)
Weapon: Ethereal Insight Cryptic Axe - Unfortunately with 12 LvL Meditation Aura
Armor: Fortitude Sacred Armor 4003 Defense - 26 All Resist


In general I have chosen hardcore style of gear so I don't die a lot especially after 97 lvl, although I died once at 98 which was very weird. Dying at 98 hurts a lot.
Here is how long it took:
96 lvl on 28.08.2015
98 lvl on 21.09.2015

Please note that your browser might not allow Full Screen on the embedded video below so if that's the case just click the title or the YouTube button to play it in Youtube.com


I can now gear this wonderful 99 hammerdin in some damage gear. The plan is to replace the CoA with Shako, Stormshield with Spirit Targe, Thundergod with Arachnid, the Raven with SOJ and also to put some Combat Skillers. I will post a video and stats once I do this.
With this out of the way I can now focus on my Hardcore char who sits and waits on 98 lvl - 10%. :)
29.10.2015 - Updated Section
Updated the Downloads Section. It has some cool and core tools for every D2 fanatic. I will try to add more.
23.10.2015 - Playing D2 again
I have been playing since this year's ladder reset on 26th of May. I didn't start immediately but when I started I was again all in, just like in 2009 when I last played. I started playing Softcore ( duh...) with some colleagues and I am almost at the finish line today - 23.10.2015
Djongov-MF (Softcore Sorceress) - 96 lvl, 700 MF
Robota-Reborn (Softcore Hammerdin) - 98 lvl, 71.4%

I also play hardcore (so far alone) with great progress
Djongov-HC (Hardcore Hammerdin) - 98 lvl, 10.1%
Vihrushko-BG (Wind Druid) - 95 lvl, deceased
BoBarb-BG (BO Barb) - 85 lvl

23.10.2015 - Website Updates
Well... it's been a while since I've done any work on the site. It was created 2009 and now 6 years later it's time to put some new technologies and improve code. I've spent good several days of coding the site but the improvements are insanely good. The changes are:
Clearing code pollution. The website was created using Web Builder which is a "what you see is what you get" type of html builder so it really pollutes the page with unnecessary code. Also I wanted to modernize the code by structuring it properly and extensively use CSS so i can control the site easier. What has been done so far:

--Unique Items Page--
- Changed the structure. Created a separate page for each class of uniques
- Every type of Unique will now load independently
- Changed the color to the true unique one and also changed the (varies) color to white
- Redesigned the whole code so I can control it through CSS and be able to change every part of the page with just one click
- The results are - better navigation, better looking, more accurate, scalable for any future changes. So many years later i have never seen a Uniques page structured in the same way.

--Set Items Page--
- Structure remains the same but I have redisgned the whole code to include CSS so I can control the page better
- Code is now structured and beautiful
- Changed sets.html to index.html. Sets2.html stays the same

--Runewords 1.10 page--
- Designed a Navigation for the Runewords. Like Uniques - Never seen before runewords structured by Weapon/Armor type. Go check it
- Restructured the code to use CSS for control of the page
- Designed the Runewords to be in tables just like Sets and Uniques
- Corrected some mistakes of mistaken runes not being in the same order as they should be
- Supplied new screenshots for some of the Runewords
- Did a slight change to the Runewords 1.11 page just to structure the code but won't do any css work on it. Just not worth for a few Runewords
--What's next on the menu:
- To remove code pollution on main page and apply CSS
- Do the same for battle.net page and Horadric Cube page
- Redoing the Monsters page is a really really huge effort so I want to do it but I might not find the time